BookingCentral offers you a way to add am image or a file to any existing booking in the system. This is helpful if you need to attach a signed waiver, driver's license, insurance documents, or an image of the equipment rental such as a boat.
There are two ways you can add a file to a booking:
During the Check In / Check Out process
Anytime on the booking through the Functions section
Adding an image during Check In
If you want to add an image to the booking during the Check In process, you should enable the Photos option in the setup.
Go to Settings - Check In/Out, and enable Photos for Check In and/or Check Out.
When a booking is Checked In using this feature, the user can add a Photo during the process. Options for Photos include:
Take Photo - users can take a photo from their mobile device and upload instantly
Photo Library - add a photo that is saved on the device
Choose Files - add a photo or file that is saved in a folder on the device
Upload the Photos and Complete the Check in. Uploaded Photos can be view in the Check In/Out History. On the Check-in page, select All - View History.

Additional photos can also be added during the Check Out process when the customer brings back the rental. This is useful to take photos after the rental in case there is damage to the equipment.
Adding an Image or File on the Booking
To add an image or a file to an existing booking, you will search and open the booking in the system. Search on the Calendar or Bookings tab. On the booking, select Photos/Files from the Functions section.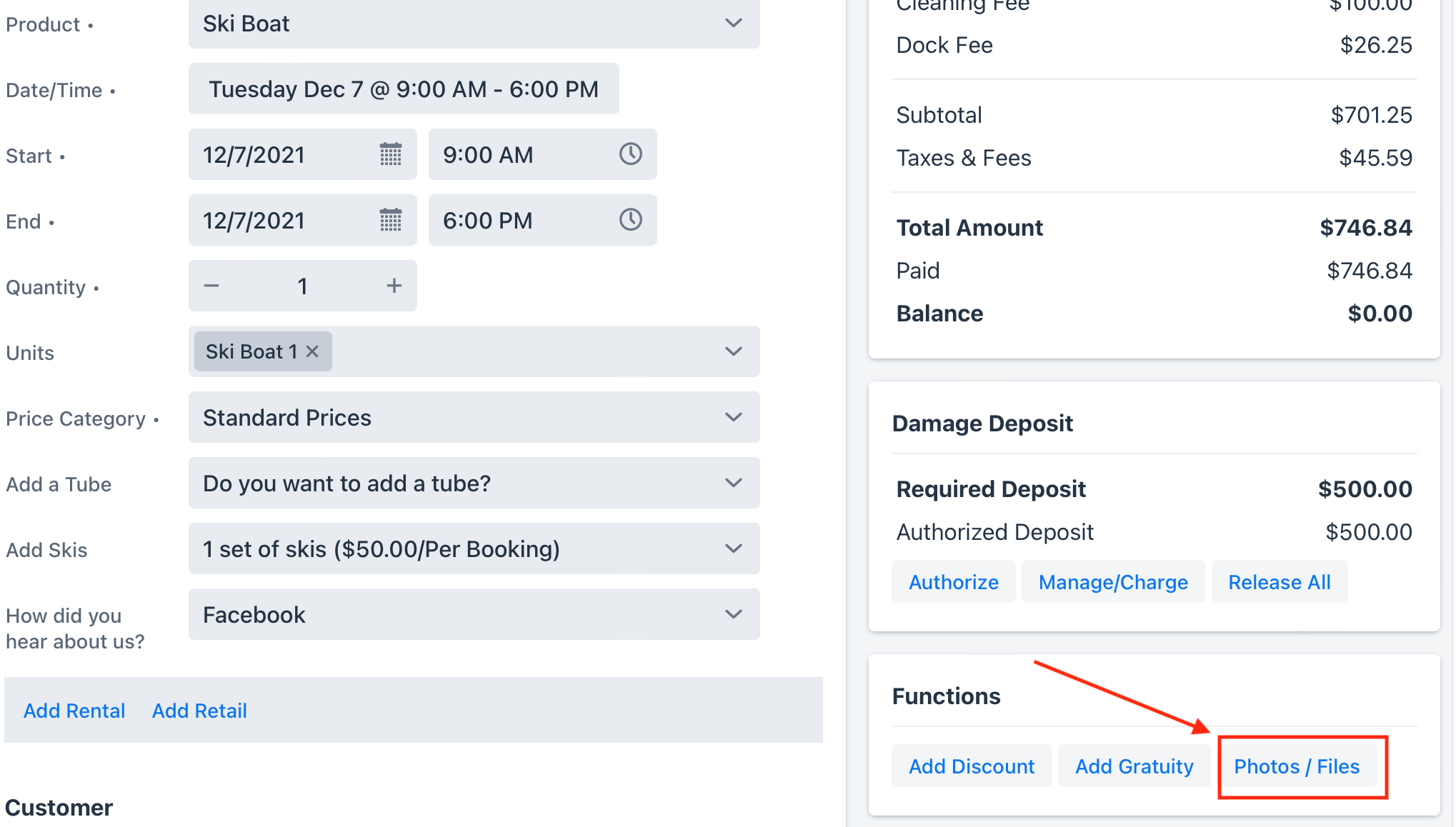 Select Upload Files to add an image or a file. This is helpful is you have a copy of a signed waiver or insurance documents. Add file, and Close.
Note: Any previous uploaded photos or files will also show on this page.