The system offers a way to text a customer information about their booking. You have 3 options for text messaging, and you can choose to use all or some of the following options.
Automatic Text Reminders
Directions Text
This article will explain how to set up an Automatic Text Reminder and Directions Text that is sent to all customers who make a booking. A reminder text will give them important information about their upcoming booking, and can be customized to include important details about their rental or activity. Automatic text reminders are best for tourists traveling to your area for a vacation, and may not have access to their email. In most cases, a visitor will always have their phone that can receive messages via text.
To enable and customize the automatic reminder text, follow the steps below.
Go to Settings - Configuration - SMS
In the Reminder Text, choose when to send the text:

The Evening Before - will send at approximately 7:00 PM the night before the activity
3 Hours in Advance
6 Hours in Advance
24 Hours in Advance

Input the Reminder Message in the text box
As an option, add directions to your location in the Directions Text section.

You can add a link to a map as well as an image of your location.

Once complete, hit Save.
Pro Tip! When deciding the time when the text should be sent, it is recommended that you choose The Evening Before option. This will send the text at a good time prior to their arrival. If you choose the 3 Hours or 6 Hours in Advance option, and if a customer is booked for a morning rental or activity, then the text will get sent very early in the morning, such as 4:00 AM or 5:00 AM. The customer may miss the reminder (or get woken up by the text message!)
The customer will receive the text message based on the time designated in the settings. In addition to the custom message, the text will include the Booking Code, the Rental booked, and the Date/Time of the booking.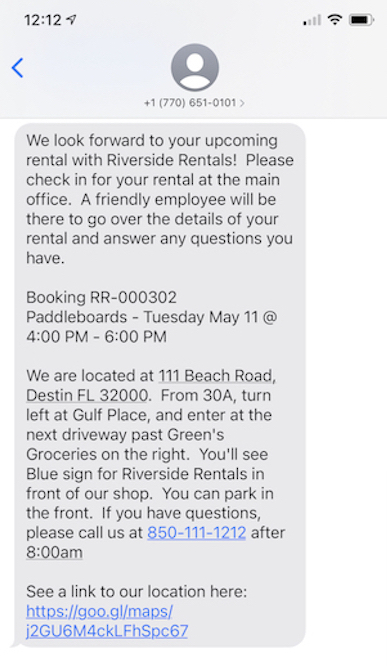 You can also send the message manually from the booking through the Messages section of the booking. You have the option to send the full Reminder Text, or just the Directions Text.