When setting up your Rentals, Tours (Tickets) or Activities, you will be able to include a detailed description of your offerings and include a photo(s). The Description and Photos will show on the online Checkout page when your customers book online through the booking widget.
To add your Descriptions:
Go to Settings - Rentals
Select a Rental to Edit, or + Add Rental to create a new one
Select the Descriptions tab
Writing a great description of your rentals is important to entice your customers to book. The system offers a robust description section in the setup that will allow you to add many options/information about the rental.
The Description setup includes:
External Name: If you want to include a different name than the one you added to the Overview page for your online customers only, then include it here.
List Description: This is a short sentence or two that describes the item. It will be seen if you use the Product List option for online checkout.
Tagline: The tagline is a short phrase or sentence that will show below the Rental name and above the picture in the online checkout page.
Description: This is the main description of the rental that allows you to give many details. You can include multiple paragraphs as needed.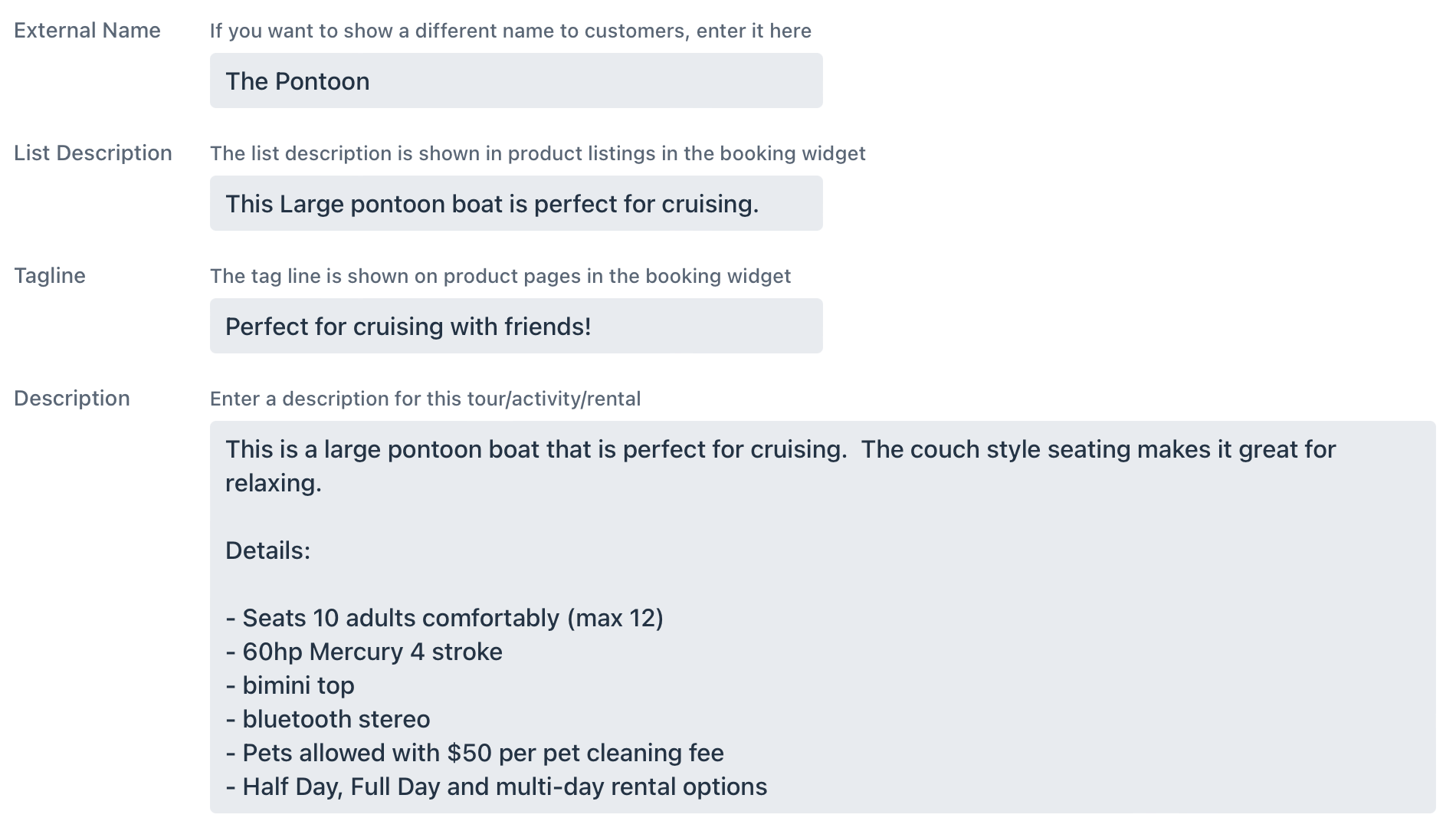 The Whats: include additional information in the provided text fields for what to see, what to do, what to bring. These fields are optional and can be left blank if they do not apply.
Photos
Photos are a great way to visually showcase your offerings and are an important part of the setup. You can add several photos for each rental, tour, or activity to create a carousel of your product.
To add your Photos:
Go to Settings - Rentals
Select a Rental to Edit, or + Add Rental to create a new one
Select the Photos tab
Upload photos by selecting them from your customer, or you can drag and drop photos

All uploaded photos will show on this page, but only the Current Photos will show for the product's page that you are on.
BookingCentral automatically scales images for the booking widget and emails. For best results, we recommend that you upload images that have a high resolution, a standard 4:3 aspect ratio and in landscape view. Images with a different aspect ratio may be cropped during display under certain circumstances. Recommended image sizes are: 1280×960, 1400×1050, 1440×1080 , 1600×1200, 1856×1392, 1920×1440, and 2048×1536.
Preview how the activity will look online by going to Settings - Web Sales. Great descriptions and photos looks great to interested customers.