When managing your daily rentals, using the Check-in option will allow you to easily keep track of rentals that are out for the day and when they come back. If you've enabled and customized your Check-in/Check Out, then users in the system can use the Check-in tab in the system to check in customers.
The Check-in tab in your system will show all bookings that are scheduled for the the current date. To check in a customer, click on that tab to get started.
There are 3 tabs on the Check-in page:
Check In: will list all rentals that are scheduled and have not been check in for the day
Check out: will list all rentals that have been check in, but not yet returned for the day
All: will show a complete list of all rentals that have been checked in and out
To Check In a rental when the customer arrives, select the green Check in button to the right of the customer details.
Hit Next to continue
If Fleet Management is enabled, you can review the Resource assigned to the rental, and input usage as needed.
Hit Next to continue.
If a custom checklist was created, fill out the information on the next page.
Hit Next to continue.
If Photos is enabled, upload any photos of the rental or files.
If Damage Deposit is enabled, authorize the amount on the next page.
If the Signature option is enabled, then this will show on the next page. Users can hand the device to the customer to confirm the price and any payment due. Instruct the customer to sign their name using the iPad or mouse, and then return the device back to the employee.
If Payments is enabled for Check-in, then the next page will allow the employee to charge the balance due on the rental, including any additional charges that were added during check-in. Select the card on file, charge to a new card, or use the Card Reader feature to charge the customer.
Check in has been completed! You can continue to check in additional customers for the day using the same process.

To Check out a customer, follow the same steps above using the Check out tab.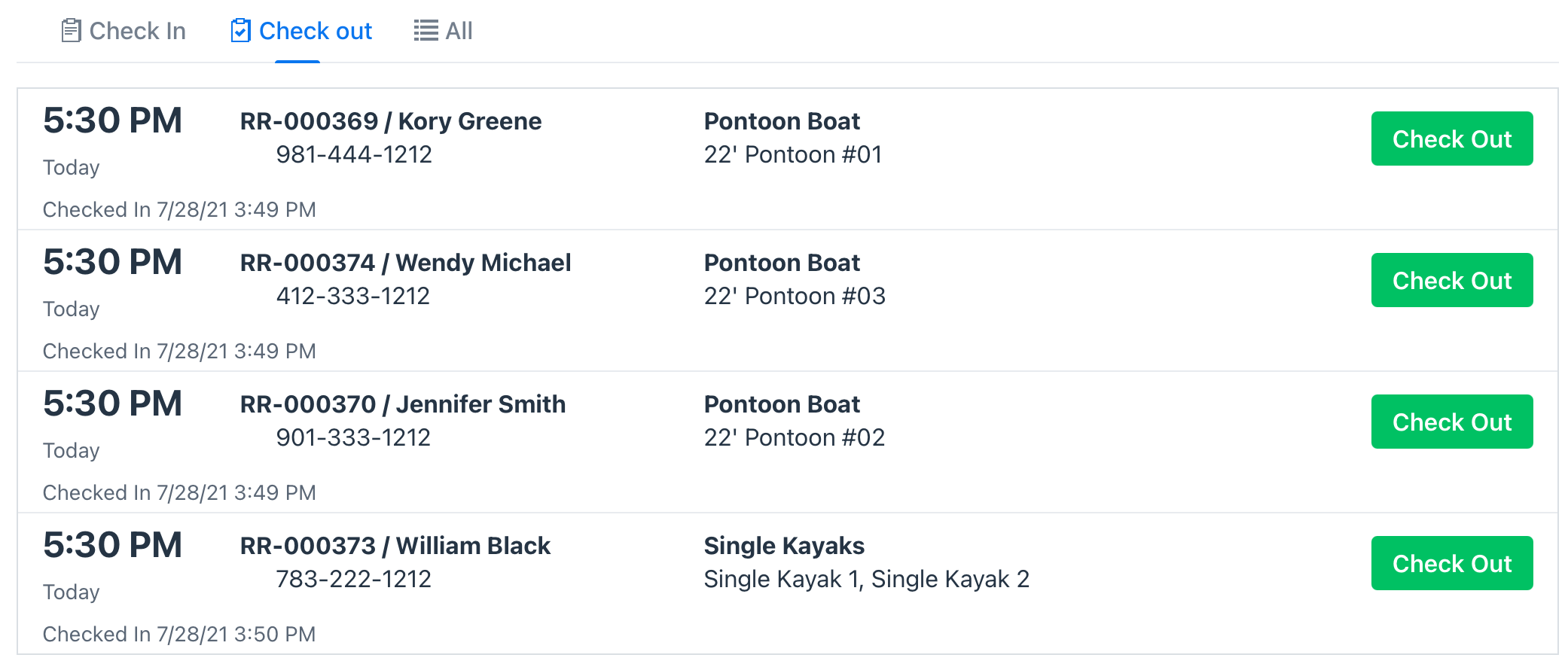 Use the All tab to see all the activity for the day, including the History of both the Check in and Check out process.
Use the Today button at the top of the Check-in page to see other date's check in information, too!