The system allows you to setup a reseller in the system so that they can book your rentals or activities. Resellers are any person or business that you want to allow to make a booking for you, but not be able to access the back office system. Resellers will use a custom booking link to make a booking.
To get started, you'll first want to setup your Resellers in the system. Follow the steps below:
Go to Settings - Administration - Resellers
Select + Add Reseller
Code: This is the unique code that the system recognizes for this reseller. The code is auto-generated and cannot be customized. *
URL: This is the unique URL that the reseller will use when making a booking for you. The URL includes the reseller code that the system uses to track bookings made by the reseller.
Proceed with adding the details about the reseller including:
Deposit options include:

Default - the reseller will take a payment from the customer based on the deposit rule set for the rental or activity.
No payment required - the reseller will not take any form of payment when making the booking. A PIN code (auto-generated) is required to be entered to authorize the booking.

Commission - enter the agreed upon commission percentage that the reseller will earn for each booking. If there is no commission, leave this field blank.
Save your changes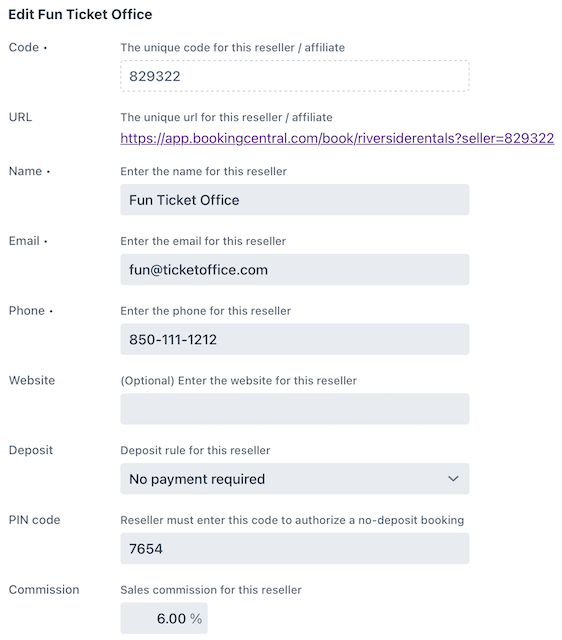 Reseller Bookings:
You will provide the Reseller with the URL and PIN code (if applicable) to make bookings for you. The reseller should save the URL on their computer or preferred device, and use it each time they book. This will allow the system to track bookings made by your resellers. When the booking is viewed through the system, it will identify at the top that it was made by the reseller.
Reports:
The Reseller information will be shown on the Orders report as well as from the Bookings tab. You can add the Agent column to the report to see bookings made by Resellers, Users, or via the Web.